facebook post wrote:News update on power outages.
The Federal Electricity Commission (CFE) will improve electricity generation capacity in Baja California Sur after the state was hit by a series of blackouts due to low capacity earlier this year.
CFE operations director Carlos Andrés Morales Mar announced the plan at an event with Governor Carlos Mendoza Davis.
Morales said that electricity distribution problems in Baja California Sur have been caused by poor maintenance of the state's generation plants. By October, the CFE will restore 42 megawatts of generation capacity that are currently out of service.
Morales also said that a natural gas power plant being built in Pichilingue will be equipped with energy-saving technology including heat recuperators, and will have a capacity of 170 megawatts when it goes into operation.
By the summer of 2021, another four new generators will be operating, he said. "That will mean the production of 170 megawatts, which will relieve the pressure on the electricity system."
In total, Morales said that Baja California Sur will have an additional 472 megawatts of generation capacity by the end of 2022.
Governor Mendoza said that Baja California Sur's current generation capacity should be close to 750 megawatts, while peak consumption is around 550 megawatts. However, due to poor maintenance of generating facilities, capacity is sometimes actually closer to 550 megawatts, forcing the CFE to cut service at peak consumption times.
"In 2020, we will have an additional 280 megawatts, which will make it less likely for us to face this kind of circumstance," said Mendoza.
The lights went out in Baja California Sur cities at least three times over the summer.

dean




Posts

: 5478


Join date

: 2008-01-01



my guess is,,, on Monday when I went by our local transformer I saw a couple CFE trucks. From what I could see is they poured another concrete pad next to our existing transformer. They had a crane with a second transformer on it. So I am assuming they were getting ready to place the second new transformer into position on the new cement pad to mount it down. So they are going to hook it up tomorrow and test it. So a few questions I have are will they be using one as a backup? or are they doubling our power capacity as the second one looked to be about the same size. I will go inspect it after they are done tomorrow and see what they did do.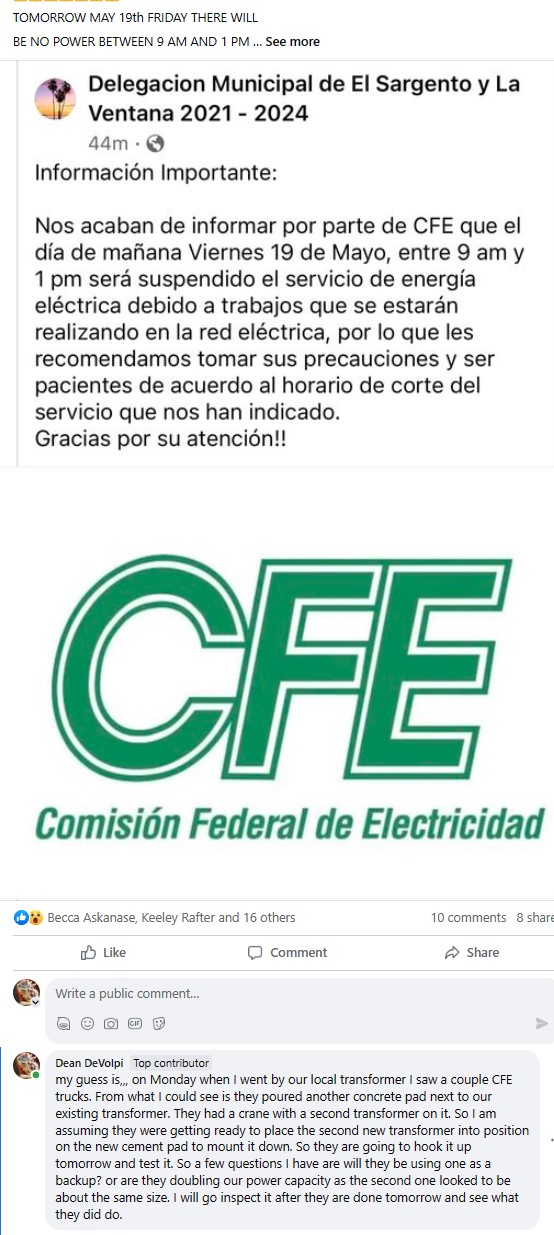 dean




Posts

: 5478


Join date

: 2008-01-01



I drove by and looked and no work was done today obviously. the transformer was in place but not hooked up. It is as I thought, exactly the same size as the other one, 2000 KVA. So basically able to double the power of the town for expansion for a few years.


What is good about this is we have a transformer issue every few years and with this they will be able at lest react quickly to supply partial power to the town till they get another transformer and install time.

dean




Posts

: 5478


Join date

: 2008-01-01



Just an observation for those of us on the electrical grid. CFE put in a new transformer at the entrance to the town a month or two ago. It is in what we call in technical terms in parallel which doubles our total wattage. It never had its activation fuses hooked in that I noticed. But today driving by it I could see they were in place. So this effectively doubled our net power rating.

Needless to say our peak demand for power undoubtable has to be summer. With two kids who love their rooms cool can say my consumption is nearly 2 times the winter consumption even with inverter AC units that are the most efficient. Ya I like my room dehumidified is the setting i set mine at.

dean




Posts

: 5478


Join date

: 2008-01-01




dean




Posts

: 5478


Join date

: 2008-01-01



https://www.elsudcaliforniano.com.mx/local/sistema-electrico-de-bcs-supera-la-demanda-historica-de-energia-electrica-10419203.html?fbclid=IwAR2NaM0uWnMOckzwAg7mo9hZ1Rn8HM4KHpRcErwxA7onQM94nhJhQqP0uy8
BCS electrical system exceeds the historical demand for electrical energy
This Friday, July 21, CENACE registered the maximum demand of 624 MW, exceeding 2022 when it registered 595 MW
Adriana Marquez | The South Californian

La Paz, Baja California Sur. (OEM-Informex)

Once again, Baja California Sur faces a summer in the midst of an energy crisis. Last Friday, users reported blackouts in four municipalities of the state: Los Cabos, La Paz, Loreto and Ciudad Constitución. The failures lasted up to 50 minutes, according to user complaints.



Read: Blackouts Friday in La Paz

According to the National Center for Energy Control (CENACE), the maximum demand for electricity in Baja California Sur was 624 MW on Friday, July 21 at 5:00 p.m.


Officially, the demand of 2022 has been exceeded when the historical maximum registered 595 MW, in addition, it could exceed at any time the forecast of this year by the Federal Electricity Commission (CFE) of 635 MW since this same center already forecasts a demand of 652 MW.

Until the time of going to press, the Federal Electricity Commission (CFE) has not issued a statement to publicize the causes of these electrical failures.

ALARMING FIGURES
The director of the Center for Renewable Energy and Environmental Quality (CERCA) stressed that it is alarming that these demands are being registered since electrical systems cannot jump from one year to another with 20% higher consumption, since it is an unsustainable issue in financial terms.

"We have already exceeded the historical demand registered in 2022 with 595 MW, we already see that this number is being exceeded at the beginning of the summer so, as the CFE commented, we are also expecting a demand that could exceed 650 MW, with the current heat waves it could be close to 700 MW according to our forecasts."

"The warning part, in terms of electricity consumption, is that electrical systems cannot make a 20% jump in demand from one year to the next, because that is unsustainable in financial terms."

LOCAL

Federal government guarantees electricity payment subsidy for BCS
"OTHER DATA"
On July 14, 2023, the president of the republic, Andrés Manuel López Obrador, was questioned by El Sudcaliforniano regarding the electrical failures that were already beginning to be registered in the state. The executive denied that there will be blackouts in Baja California Sur since he assured that power generation in the state has increased.

"No, there are no blackouts. Surely there have been some problems, but it is no longer what happened before that there was a lack of electricity, I told you that the generation plants of the Federal Electricity Commission have been expanded, not only were the plants expanded, but a plant was purchased for Baja California Sur. Maybe you have other elements, I have other data" AMLO replied.

MILLIONAIRE INVESTMENT
In 2022, the Federal Electricity Commission (CFE) announced an investment of 180 million dollars in a gas plant in the port of Pichilingue for the production of electrical energy that will supply the municipalities of La Paz and Los Cabos, thus guaranteeing sufficient electrical energy and not a single blackout.

Jaqueline Valenzuela mentioned that they are now waiting to know the results of the investment made by the CFE, mainly in the electricity generation part, which is enough so that we do not have more supply cuts and, above all, that it does not exceed the unfavorable 2019 where there were more than 250,000 affected users.

"We must be aware as a population of the high temperatures that are being recorded according to weather forecasts."

Subscribe here to the digital edition of El Sudcaliforniano

"NASA is reporting more heat waves that are causing other types of events, which also have an impact on high temperatures, and the state of the electrical infrastructure, such as the formation of sandstorms, we see a global phenomenon with local effects, we hope to see what the CFE's response capacity is."

Although the origin of the failures that led to blackouts in the state is still unknown, in La Paz, at least 20 neighborhoods in the state capital presented power cuts during the hot Friday afternoon, in addition to towns close to the area.

dean




Posts

: 5478


Join date

: 2008-01-01




dean




Posts

: 5478


Join date

: 2008-01-01



Similar topics
---
Permissions in this forum:
You
cannot
reply to topics in this forum