here is a diesel one that is very reasonably priced  am told about $6,000.00 at 5wh generation.

http://www.northern-lights.com/landbasedsolutions/nl673l4-54-5-kw/

The honda EU and EB series are great...

Diesels life and efficiency are generally great vs gas, but the cost of a rebuild in general of a diesel is $$, double more expensive. With the exception of the single cylinder one that i list below I can rebuild myself if needed. General life is about 3000-6000 hours before a rebuild.    .

the honda eb2000 Long run time - up to 9.6 hrs on 1 gal of gas is amazing too... 0.1 gallons of gas per hour. Oh, I had sold my EU1000 for 50% of what I paid for it after using it 10 years and about 1500 hours. I bought it used myself, but 1500-2000 hours is a fraction of a diesel life.

Here is a military spec generator with low hours used.  2kw at $1,800.00

http://greenmountaingenerators.com/product/mep-531a-2kw-military-diesel-generator/

http://battlegradeelectric.com/products.php
Last edited by dean on Sat Jul 11, 2015 8:42 am; edited 2 times in total

dean




Posts

: 5478


Join date

: 2008-01-01



diesels

http://www.centralmainediesel.com/

http://www.hardydiesel.com/diesel-generator-questions-and-answers.html

http://advanced-power-systems.com/special-yanmar-portable-diesel-generator-sale/

http://www.generatorjoe.net/html/genfuel.html

http://forums.cat.com/


and here is some storage solutions now and future  obviously tesla but
samsung
http://www.businesswire.com/news/home/20150610006482/en/Samsung-SDI-Unveils-Energy-Storage-Products-Intersolar#.VZ-L8_lVhBe

new one
http://www.uetechnologies.com/

another one enters the market next year
http://cleantechnica.com/2015/07/14/yet-another-energy-storage-company-takes-tesla/?utm_source=Cleantechnica+News&utm_medium=email&utm_campaign=d713732437-RSS_EMAIL_CAMPAIGN&utm_term=0_b9b83ee7eb-d713732437-332019637

http://cleantechnica.com/2015/09/15/panasonic-roll-residential-battery-europe-starting-germany/?utm_source=Cleantechnica+News&utm_medium=email&utm_campaign=71ba668236-RSS_EMAIL_CAMPAIGN&utm_term=0_b9b83ee7eb-71ba668236-332019637

Panasonic is to enter europe 2016 with a home battery system
http://www.bloomberg.com/news/articles/2015-09-02/tesla-rival-panasonic-to-sell-home-batteries-in-europe-next-year
Last edited by dean on Sat Sep 26, 2015 7:26 pm; edited 3 times in total

dean




Posts

: 5478


Join date

: 2008-01-01



http://www.oksolar.com/technical/consumption.html

dean




Posts

: 5478


Join date

: 2008-01-01



http://www.outbackpower.com/outback-products/inverters-chargers/item/sealed-fx3048t

solar panels in Mexico
http://www.solartec.mx/
http://www.solartec.mx/productos/modulos/policristalinos/
http://stores.erdm-solar.com/

dean




Posts

: 5478


Join date

: 2008-01-01



boy if they ever hit that cost we will all be buying battery back ups for our homes in baja. 
http://cleantechnica.com/2015/09/21/tesla-gigafactory-battery-improvements-could-cut-battery-costs-70/?utm_source=Cleantechnica+News&utm_medium=email&utm_campaign=7268b7c9d5-RSS_EMAIL_CAMPAIGN&utm_term=0_b9b83ee7eb-7268b7c9d5-332019637
The analyst in question is basing this prediction around an estimation that current Model S battery-pack costs hover somewhere around $250/kWh (kilowatt-hour) — and that the company "can bring the cost of the battery cells down to ~$88/kWh and the pack-level cost to ~$38/kWh."

Here's a clip from that:We believe that Tesla's use of an efficient nickel cobalt aluminum (NCA) cathode (ie the positive electrode), use of a silicon synthetic graphene anode (ie the negative electrode) that has 2-6x the lithium-ion storage capacity of today's standard graphite anode, and a possible use of water-based anode solvent, are key advantages. […] Our analysis details a potential path to a 30% cell-level cost reduction to ~$88/kWh by using a more efficient lithium-rich nickel cobalt manganese cathode (vs. NCA), doubling the percentage of silicon in the synthetic graphene anode, replacing the liquid electrolyte with an ionic gel electrolyte which eliminates the need for a separator, and using a water-based electrode solvent for the cathode. The Gigafactory, which is expected to begin production in early '16, should drive down pack-level costs by 70% to ~$38/kWh via economies of scale, supply chain optimization, increased automation, and production domestication.As noted by Electrek, that puts things in the sorts of ranges that would probably allow for a very affordable electric vehicle (EV) with a 200–300 mile plus range.

With regard to the estimation that Tesla Model S battery packs cost around $250/kWh at the moment, it should probably be noted here that the company's Powerpacks are currently selling for around that price — so, presumably it's a bit lower, but that's just a guess. Other estimates put Tesla's battery packs at a cost of ~$200/kWh right now. 

dean




Posts

: 5478


Join date

: 2008-01-01



now have several of these diesel military generators.    a 2kW a 3kW and a 5kW.    
I have several of them for sale at a LaPaz business, as well as i have some in the USA side of Otay Mesa.   All commercial ones basically are over rated, because they are not for life emergency situations.  Being in a war zone 
and having a generator only put out half of the power and or reliability issues people can die.      
These military ones are all under-rated because of this.  In general they are actually able to run at 30-50% higher and their short peaks can be at 100% higher.   IE they can start a motor or compressor and still run at 70% load no problem.    They do use less fuel and you can in our summer hot weather run filtered vegetable oil in them.    The negative they are not cheap.     The brand new price on the three above is about USD$5,000.00, $7,000.00 and $11.000.00 us dollars.    
The ones I have are all at least half to 1/3 the brand new price for units with 30-700 hours on them.    If you know diesels and they run which these are warrantied by me, they run and as a diesel that has low hours and running it will last for years.   
Next the small ones are single cylinder and very simple to work on, the parts can be found on ebay and are cheap.   
These 2kW and 3kW diesel engines are made by Yanmar and again the military only uses these engines is how high quality they are.   Boaters too.   These small ones may need a rebuild at 6000 hours to 12,000 hours.   Another advantage of these two small units is you can pull start both of them.   
The 5kW are onan and the rebuild time is 10,000 to 20,000 hours.   There is incredible amounts of info including all manuals online because these military requires such quality documentation, and it is public domain because the US military paid for it.   
Here are some pictures (I will post more later) these are just off the internet. 
this is the 2kW one.
  MEP-531A  It weighs 150 lbs. two can lift it.  
here is a 3kW one about 300 lbs.  MEP-016A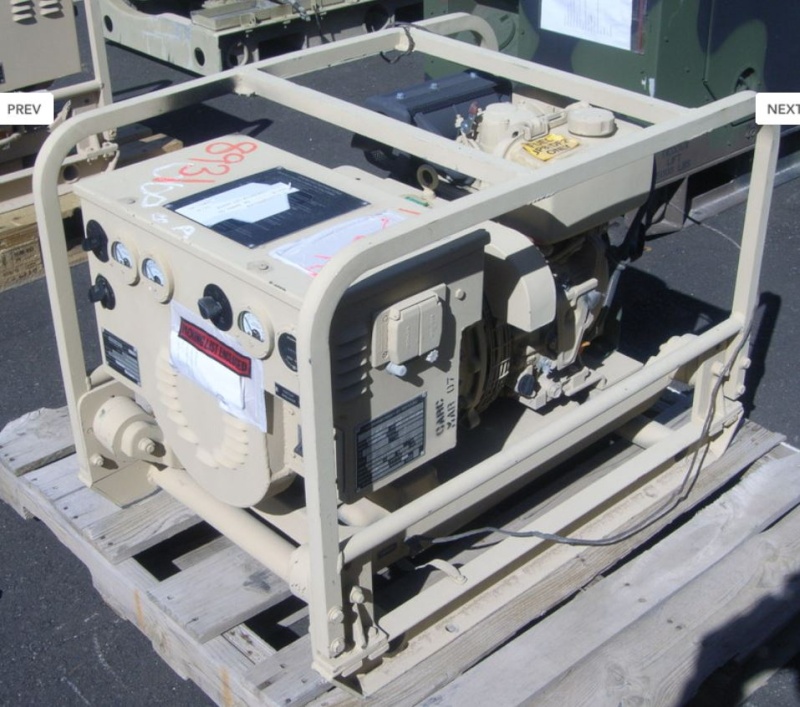 here is a second type of 3k one, MEP-831A this is a tactile quiet one.  Looks like the 5kW ones this unit weights 300 lbs.  this one is skid mounted.    At 300lbs it is not easily stollen.
5kW weighs 840 lbs.  MEP-802A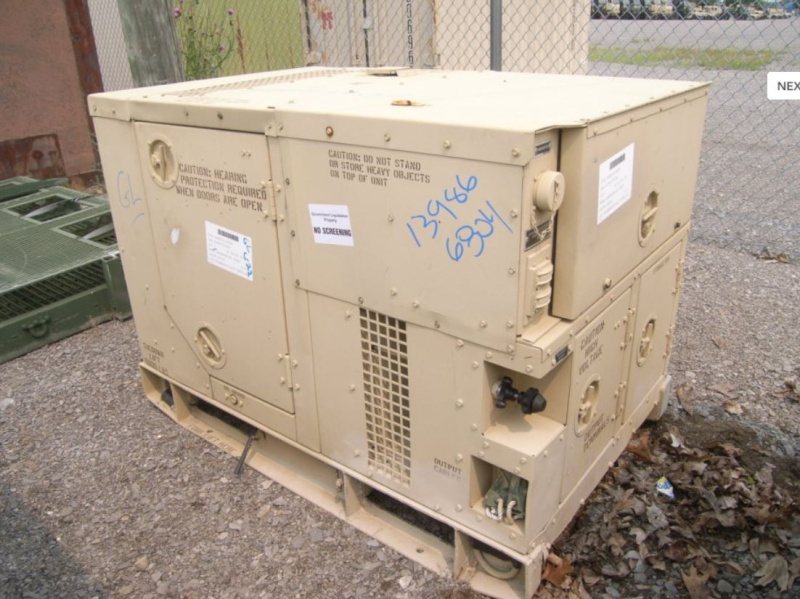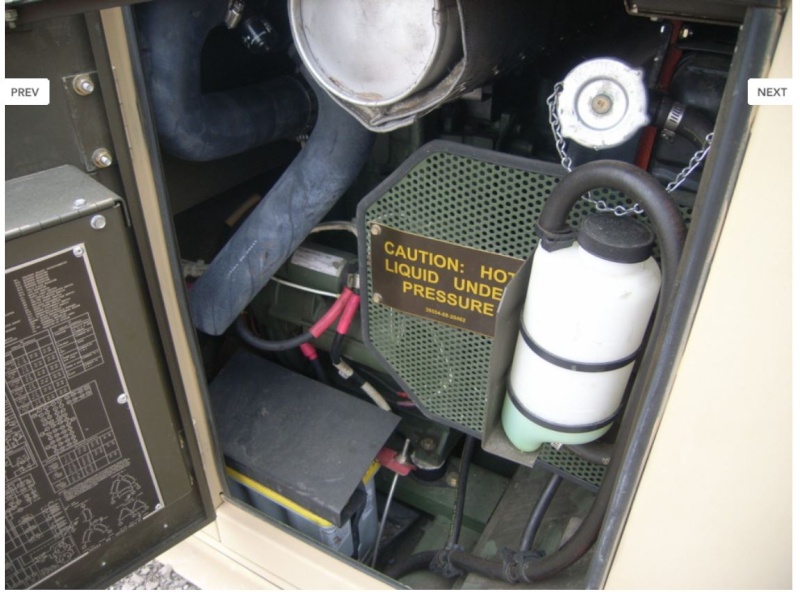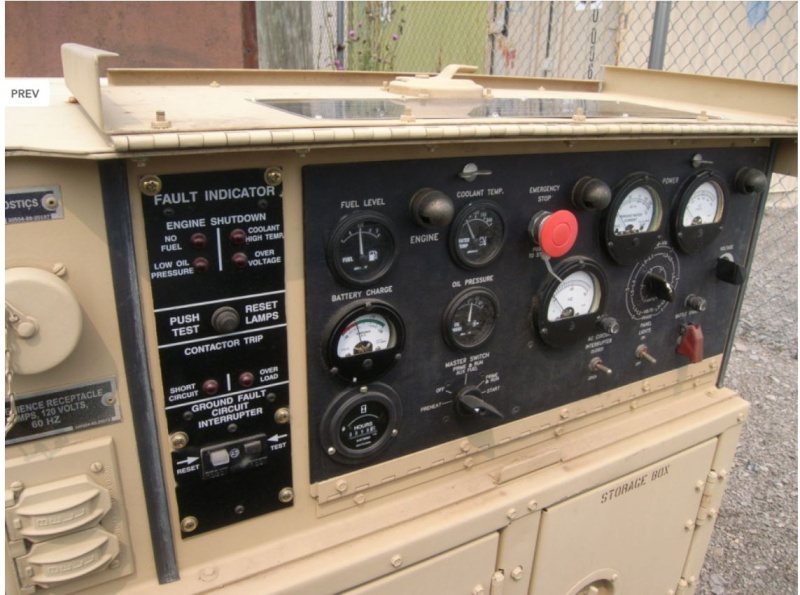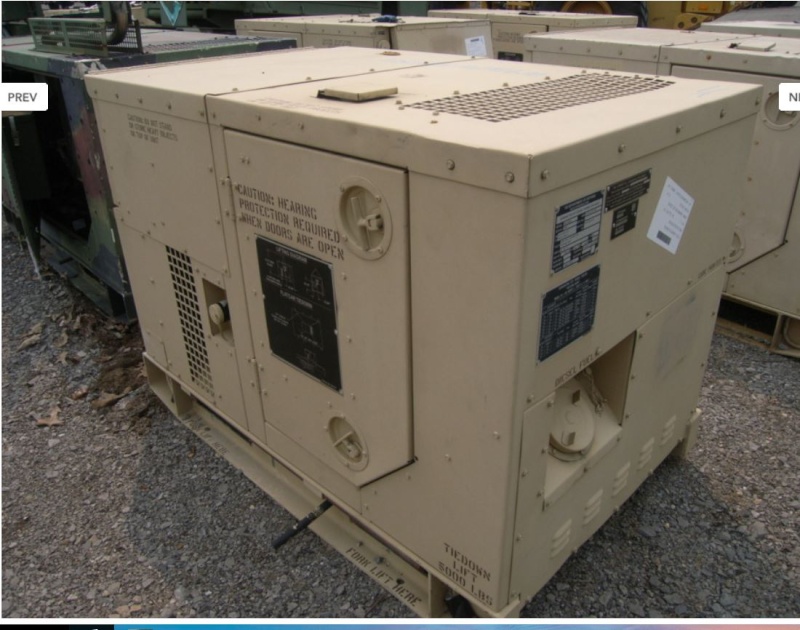 Last edited by dean on Mon Apr 18, 2016 9:18 pm; edited 1 time in total

dean




Posts

: 5478


Join date

: 2008-01-01



http://cleantechnica.com/2016/04/18/palo-alto-startup-electriq-launching-10-kwh-lithium-ion-home-energy-storage-system-fall/?utm_source=feedburner&utm_medium=feed&utm_campaign=Feed%3A+IM-cleantechnica+%28CleanTechnica%29
Palo Alto Startup ElectrIQ Launching 10 kWh Lithium-Ion Home Energy Storage System This Fall
April 18th, 2016 by James Ayre
The Palo Alto–based startup ElectrIQ Power will be launching an integrated home energy storage product during Quarter 4 2016 — featuring a 10-kilowatt-hour lithium-ion battery, a hybrid DC-to-AC inverter, a DC-to-DC converter, an intelligent battery management system, and a high-frequency energy meter.
The company has apparently already managed to nab 4,000 preorders for the product. Considering that the all-inclusive 10 kilowatt-hour (kWh) unit will sell wholesale for around $13,000 and retail for about $16,000, that's a fair chunk of money if all of the orders go through. The system will come with a 10-year, 5,000-cycle warranty, it should be noted.
elecrtIQ
The CEO of the startup, Chadwick Manning, commented: "We're taking an iPhone approach, where all of these different components are in one box. We create software that allows them all to talk to each other and use all of that information to create an automated, efficient home. We're looking at the home as a microgrid ecosystem rather than component by component."
Greentech Media provides more:
The IQ System is paired with a cloud-based dashboard that allows customers to monitor energy use and make informed decisions about their consumption. The embedded software system can also learn usage habits and automate home energy savings.
…Solar companies have shown the most interest. The all-in-one package cuts out suppliers and cuts down installation time for new customers. And because the system integrates in AC or DC, it can serve existing solar customers without the need to upgrade hardware.
…ElectrIQ says its real added value is its software. The IQ System energy meter samples data every millisecond, which allows the system to collect data on everything — down to how many times someone has opened the fridge door. This real-time identification provides insight to customers on how to be more efficient via the online dashboard. The on-board analytics program can also control internet-enabled appliances to automatically lower energy usage.
Rate arbitrage can offer battery customers added value. But unless a customer faces demand charges, the returns are unlikely to be that great, said Manning. That's why, at least initially, ElectrIQ plans to target customers that want backup power and offer them a return on investment through smart controls that improve efficiency.
While the startup has been funded by angel investors to date, it's currently working to close a large venture capital round.
Note that we wrote about electrIQ and an announced 7.5 kWh offering in January — "ElectrIQ Offers 7.5 kWh Or Larger Home Energy Storage Solution" — it seems that has been changed to this 10 kWh offering.
Check out the electrIQ Power website for more details.

dean




Posts

: 5478


Join date

: 2008-01-01



https://www.costco.com/.product.100242525.html

Grape Solar 5830 Watt Grid-Tied Solar Kit
★★★★★
Write a review . This action will open a modal dialog.
Item #1032837
Your Price9,999.99$
Shipping & Handling Included *

Features:
Generate Between 310kWh and 723kWh of Electricity Per Month, Includes 22 Polycrystalline Solar Panels, SolarEdge 5000 Inverter with Power Optimizers, Roof-top Mounting System

dean




Posts

: 5478


Join date

: 2008-01-01



Similar topics
---
Permissions in this forum:
You
cannot
reply to topics in this forum