ventana view wrote:The Classic just wrapped up and we are ready to roll into WindFest! This is year two of our fun local windsurfing and kitesurfing competition for all ages and skill levels happening 20-23 January. Early registration ends the 14th- save money and register now!! www.laventanawindfest.com/registration or register in person daily at 4 Elements Kiteboarding. See you at the kickoff party at Marlin Azul on the 19th

dean




Posts

: 5449


Join date

: 2008-01-01



LaVentana WINDFEST returns for the second year in a row, 20-23 Jan 2016. Last year, the event was created to revive the economy and unite the community in the absence of any event for several years.  This Jan 2016, La Ventana is the place to be thanks to multiple events!  WINDFEST will be held at the same site location as last year on the beach between Baja Joe's and Ventana Windsports.  You can view photos from last year and follow updates by giving some love on Facebook: https://facebook.com/LaVentanaWindfest
The full announcement below.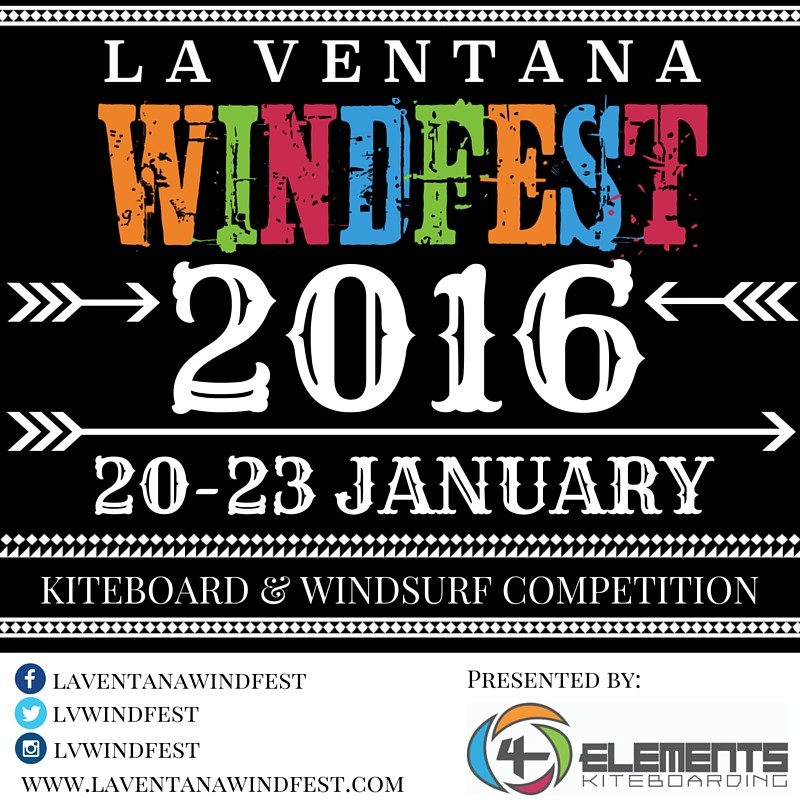 http://www.laventanawindfest.com/blog/la-ventana-windfest-sets-date-for-2016-expands-event
La Ventana, BCS, Mexico — September 10, 2015 -- The La Ventana WINDFEST, a tournament for kiteboarders and windsurfers, returns for the 2nd year in a row and expands to four days and adds freestyle to the lineup.  
The event will be held from January 20-23 in the town of La Ventana, Mexico, a popular destination for kite and windsurfers located 40 minutes drive south of La Paz. The tournament is open to all kiteboard and windsurf skill levels from ages 10+, encouraging participants to have fun with these sports.  Activities include downwinders, racing, slalom, freestyle tricks, big air competitions for prizes, all while benefiting the local economy and encouraging the next generation of champions.
WINDFEST is the creation of 4 Elements Kiteboarding founder and La Ventana resident Xantos Villegas, after seeing a glaring absence of a community event in the area for several years.  "We have such an amazing community around these sports and our local businesses depend on events like this.  What better way to boost the economy than to bring everyone together to have fun?"  But WINDFEST is not just about fun. To ensure a professional event, he has included professional race director Rob Dean, who has lead international regattas such as Big Boat Rolex.  "We want up-and-coming champions to experience what it is like to compete in a world class event.  That way we can help them get to the next level and build their track record," says Villegas.  
This year the event includes the addition of a freestyle category at the request of last year's participants, more time for the big air competitions, and the addition of standup paddle (SUP) games.  WINDFEST closes with the largest after-party in La Ventana, where awards are given, raffles drawn, and dancing begins to the hottest upcoming bands and DJs from La Paz.  
The freestyle and big air events are also what typically draws the largest crowds as onlookers are wowed by complex tricks and long hang times from the kiteboarders.  Admission is free for spectators and there will be food and beverages for sale at the event site.  
Registration for those who want to participate in the events is not open yet, but there will be different prizes for the various categories of games they can register for.  Participants are encouraged to follow the Facebook event page for updates and announcements for open registration:
Visit their event page for more: https://www.facebook.com/events/880219455360661/
Inquiries should be directed to: hello@laventanawindfest.com
http://www.laventanawindfest.com/
About 4 Elements Kiteboarding Training Center

The 4 Elements Kiteboarding Training Center (4EK) is proud to host the La Ventana WINDFEST for it's second year in a row.  Now in it's 4th season in La Ventana, 4EK is run by professional kite racing athlete and IKO certified instructor, Xantos Villegas.  He has developed his own technique that maximizes water time and real-time feedback for his students to accelerate kiteboarding skill development.  4EK training center provides jet ski support, professional radio helmets, and one-on-one IKO instruction for each lesson. To learn more, visit www.4elementskiteboarding.com or email xantos@4elementskikteboarding.com.

La Ventana WINDFEST




Posts

: 1


Join date

: 2015-11-13



Similar topics
---
Permissions in this forum:
You
cannot
reply to topics in this forum