baja nomads
Hi there I just did something very similar recently with one of my vehicles, here is my suggestion: Buy your converter and sensors in the States there is a number of online stores with very good prices, there is a muffler shop in Tijuana centrally located and they do a really good job "Mofles Rex" they are located on the corner of Andres Quintana Roo and Boulevard Agua Caliente which is exactly 6 blocks from Avenida revolucion (Av Revoulcion turns into Blvd Agua Caliente) you can look it up on google maps and they also have a web site "www.moflesrex.com" In my case it would have been 1500.00 dlls. in San Diego and with parts and labor I got it done for 350.00 in TJ 

dean




Posts

: 5478


Join date

: 2008-01-01



On a recent trip I was fortunate to breakdown as it turns out 5 blocks from the best diesel mechanics in baja...    we know what would have happened if that break down was 100-900 miles down the baja.   
I have found a great mechanic for diesels in Ensenada.    Make sure you tell them I told you about them.  I will try to visit them every time I drive by.   Great guys...       
They rebuilt my Ford 6.9 fuel injector including tow, labor, and parts for USD$200.00  (note in the USA a fuel pump it self is over USD$600.00)  it was the shut off solenoid that was not activating.   They did this work in no time so I could continue with my travels.    
So on the way back south dropped by with a new thermostat and fuel pump i broght with me for preventative maintenance without an appointment and they dropped everything and took care of it in 2 hours for a USD$60.00 bill, they prefer USD.   
Laboratorio Diesel El Chino 
Just south of walmart complex is a military base on HWY1, across from the military base to the south end of the base.. .  There is a ice plant, great place to buy ice too.   The ice plant is on HWY 1, go to the street to the north of the ice plant and go in one block on the right.     cel 646.140.3405    You will also see a 7-11 gas station across the street from the military base it is not far from there to the south still.   
from what I saw there they did work on new and old trucks of all kinds even the big rigs.    There are low cost hotels a few blocks away if you wanted to get more work done, and local busses to take you anywhere.  
the owner is Chino, and his ace mechanic is Ramon.
i have marked the approximate location.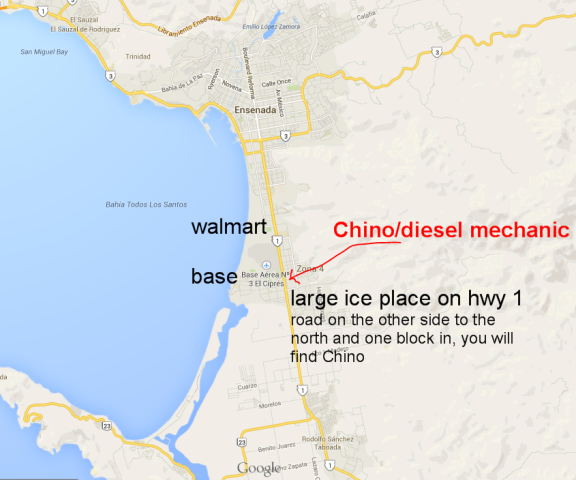 dean




Posts

: 5478


Join date

: 2008-01-01



Similar topics
---
Permissions in this forum:
You
cannot
reply to topics in this forum