good thread shows pics of where you can get your visa, but the way they did it costs a lot of time.
http://forums.bajanomad.com/viewthread.php?tid=65872&page=2

dean




Posts

: 5478


Join date

: 2008-01-01



Last edited by dean on Fri Jun 21, 2013 1:02 pm; edited 1 time in total

dean




Posts

: 5478


Join date

: 2008-01-01



also a quick note to get back to this site if you are traveling, all you have to do is type www.la-ventana.info and you get to the first page. that is la hyphen ventana.info then go to travel, by land.

and remember almost all mcDonalds have free internet on the road as well as starbucks in the USA. .

dean




Posts

: 5478


Join date

: 2008-01-01



and lastly disclosure, I do not warrant these are perfect, just pretty good... .

dean




Posts

: 5478


Join date

: 2008-01-01



For a short discussion on which of the crossings to take, some prefer speed, some safety, and some for duty items and so on. Here are some of my experiences.

I reversed this and taken it North to get to Otay Mesa (OM) because the TJ (San Ysidro) crossing is such a mess. I did it once on a motorcycle and once in a car in recent times. The OM crossing (if you look at one of my other links i posted a link that shows current wait times for all border crossings) was typically about half to a quarter the time of the TJ one but was so hard to get to before. I just looked online and TJ is 2 hours, OM is 30 minutes and Tacate is 5 minutes. (i have a link on the site for real time border cross times by DHS.)

This newer road makes getting to OM so simple and safe. So on my motorcycle it took me 5 minutes to cross at OM because i split traffic which is allowed; at TJ it is very difficult to split traffic so about 15 minutes. In my car it took me about 20 minutes at OM. you spend about 20 minutes extra in driving distances on both sides of the border for OM vs TJ. And about 1 hour extra if you take Tecate.

Going south with items to declare, I was recently in TJ (San Ysidro) to remove a sticker for vehicles in second state. And with their new high tech systems monitoring the weight of vehicles I observed it to be a minimum of 1.5 hours of wait the day i was there for the customs people to get to you in the line. I would not drive to TJ with items to declare.

With items to declare that leaves OM which is designed for this purpose, but the customs brokers there try to weasel in. And the customs people there are less friendly so it takes about 20-30 minutes because of the number of people declaring. If you have a lot of items to declare you have no option but to use OM, i think the amount is over $3,000.00 worth of items it is mandatory. The past problem for me when I had a large trailer was after going through OM I would get lost and hit many bad areas. And in today's world we do not want to be in bad areas. Now you just go east to catch/hit this road and you are fine.

Or if you do not have a lot of items to declare tecate to me is the best, they are very fast, very polite and my wait this time was 5 minutes. But it is a trade off because you added at about 1 hour to your drive if you are coming from the west.

If I have nothing to declare I cross at TJ during the day and for some who may not have seen other posts on other forums; the rule is you do not stop for a police car after the customs area at TJ till you get to the first toll booth. Only stop at the first toll booth if a police vehicle is pulling you over anywhere on that first stretch!

dean




Posts

: 5478


Join date

: 2008-01-01



here is a page that you should be able to print if you want a hard copy.  
general map
this is a great way to go to Ensenada without going on the road under construction hwy 3.  I probably will never take hwy 3 after taking this one.     this is a 4 lane divided free road that has very little traffic on it.     There will be two tolls, the one on HWY 2 about 80 or 90 pesos, and the last one before ensenada on hwy 1 at about 30 pesos.  If going from Otay Mesa there will only be one toll on Hwy 1D for 30 pesos.
here is a general map of what you are doing, once on the toll road only one stop to pay a toll.   you avoid all TJ madness.  (you can also do this from Otay Mesa by going east to get on this road right where the 2D toll road meets. )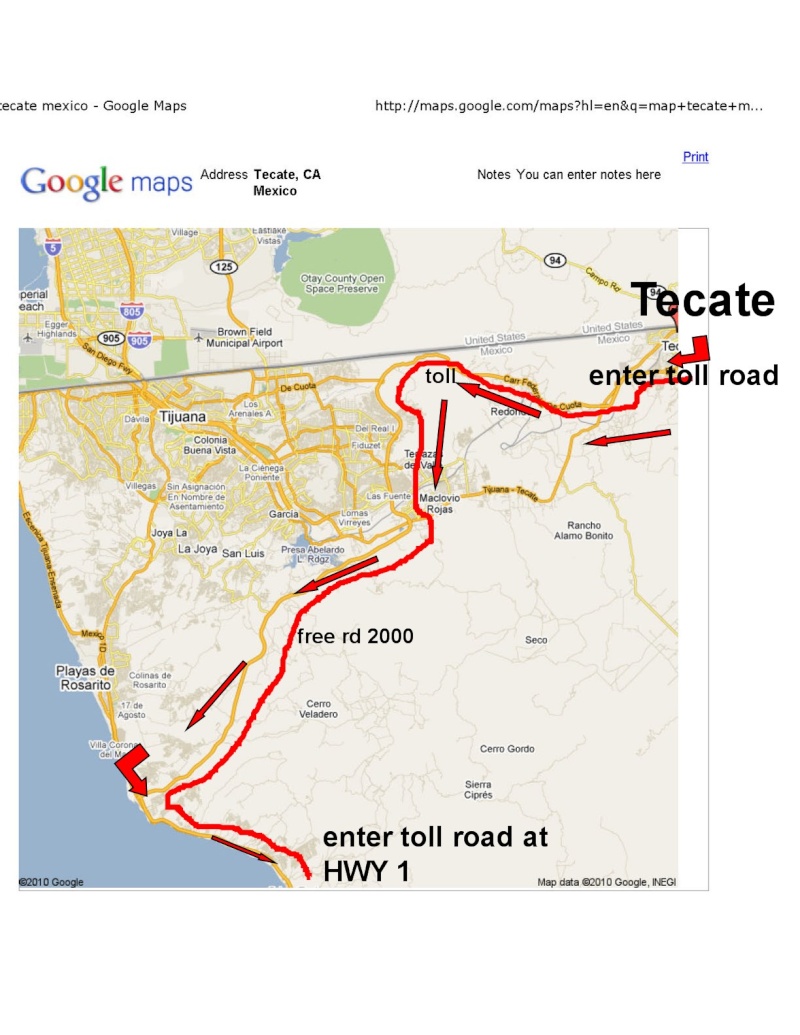 tecate, jog to get to the toll road.  
as you cross the border as you usually do and go on hwy 3 towards ensenda for a few miles (1-2), then you get on the toll road 2D heading west towards TJ.
entrace to the toll road in tecate,  take a right
Below, this is a picture right after the toll booth where 2D splits. right after the toll booth you will want to go to the left on the free road as indicated in red. not towards TJ on 2 at this point. this is a very nice 4 lane divided road with very little traffic, just one congested area by the walmart that you need to slow down, no stop lights or stop signs at all..;go about 26 miles from the toll road on this road.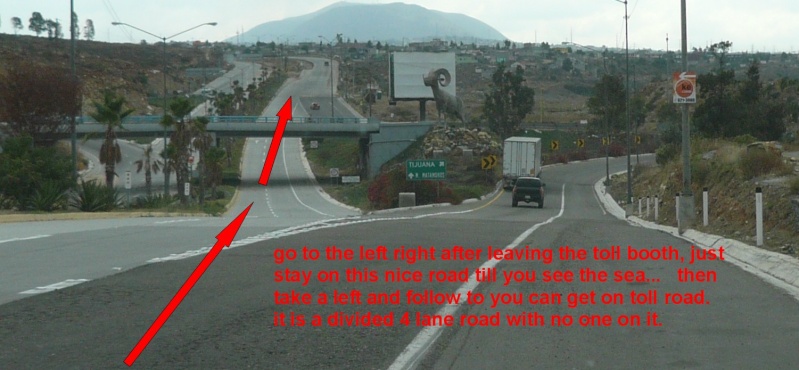 drive to you get to the water there is HW1 .   take a left on the free HWY1  below picture 
Below: turn here, towards ensenada south. be in the left lane as you enter Puerto Nuevo to get on this entrance ramp. note head to ensenada south. this entrance is a bit hard to see so again once you see the above Puerto Nuevo sign make sure you are in left lane and not driving fast look for this entrance. 
here is the turn to head south to get onto 1
as you head south, you will want to be in the left lane to get onto the the toll road 1D. this will be several miles (
 about 10 minutes, traffic is not bad. as you hit Puerto Nuevo (sign below) be ready (looking) to get on the toll road with an entrance that is a bit hard to see on the left.the entrance to 1D is reported to be another 2+ miles south from this sign, also stated 3rd or so stop sign from the below sign.  you will see a pemex on the right (300 meters)   a block in front of the turn.  
here is the left and entrance ramp onto hwy 1   before the pemex in view on the right.   This is a stop sign.  Be in the left lane.

just one toll remaining once you get on the hwy1 cuota (toll) road before ensenada...
Last edited by dean on Sun Jun 23, 2013 9:59 pm; edited 11 times in total

dean




Posts

: 5478


Join date

: 2008-01-01



Last edited by dean on Sun Jun 23, 2013 9:42 pm; edited 3 times in total

dean




Posts

: 5478


Join date

: 2008-01-01



Last edited by dean on Sun Jun 23, 2013 9:51 pm; edited 6 times in total

dean




Posts

: 5478


Join date

: 2008-01-01



Last edited by dean on Sun Jun 23, 2013 9:52 pm; edited 7 times in total

dean




Posts

: 5478


Join date

: 2008-01-01



Last edited by dean on Tue Oct 26, 2010 7:48 am; edited 6 times in total

dean




Posts

: 5478


Join date

: 2008-01-01



Last edited by dean on Sun Jun 23, 2013 9:54 pm; edited 11 times in total

dean




Posts

: 5478


Join date

: 2008-01-01



Last edited by dean on Sun Jun 23, 2013 9:56 pm; edited 12 times in total

dean




Posts

: 5478


Join date

: 2008-01-01



---
Permissions in this forum:
You
cannot
reply to topics in this forum