the first chart is total cases, second is pregnant females.  note that baja sur at this point has 1 case, but as a side note, baja sur testing vs other states is lagging by up to several months so that one case as reported is probably from last year.   and as a side note, the underreporting is estimated at 7.3 times the found cases below for Mexico.
https://journals.plos.org/plosone/article?id=10.1371/journal.pone.0212114
https://www.journeymexico.com/blog/the-zika-virus-in-mexico-what-you-need-to-know
https://www.gob.mx/salud/documentos/casos-confirmados-de-infeccion-por-virus-zika-2019
https://www.precisionvaccinations.com/zika-virus-cdc-travel-alerts-remain-active-central-america-and-caribbean-islands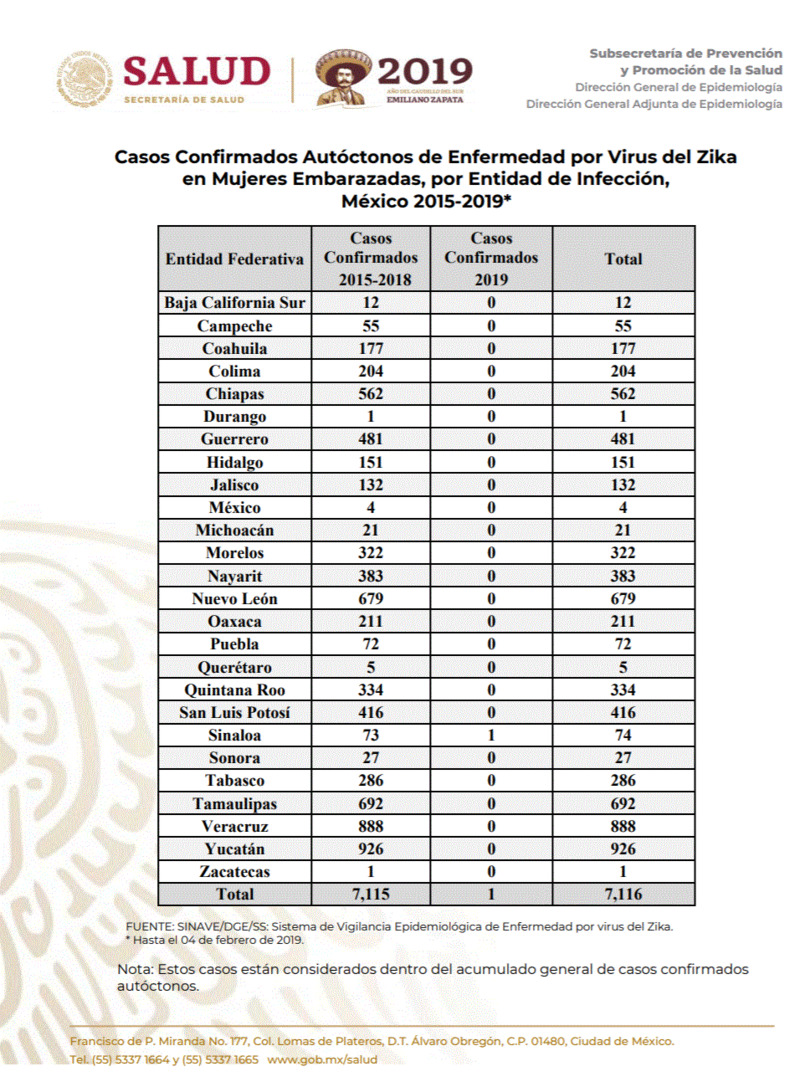 dean




Posts

: 5478


Join date

: 2008-01-01




dean




Posts

: 5478


Join date

: 2008-01-01




dean




Posts

: 5478


Join date

: 2008-01-01




dean




Posts

: 5478


Join date

: 2008-01-01



http://www.bajainsider.com/article/zika-virus-mexico?utm_medium=email&utm_campaign=BajaInsider+Update+-+October+29%2C+2016&utm_source=YMLP&utm_term=The+Zika+Virus+in+Mexico

2 cases of Zika in Baja Sur.

dean




Posts

: 5478


Join date

: 2008-01-01



http://www.bajainsider.com/article/zika-virus-mexico

Updated October 17, 2016 In the past week the total number of new Zika virus cases in Mexico rose slower, but the number of pregnant women infected rose more rapidly. The hot spots in Mexico continue to be the states of Yucatan. Morelos and Veracruz while Chiapas returned to being one of the more active areas after several weeks of fuewer cases discovered in the past week. The number of new cases overall was only slightly greater than last week. There remain no known cases of the Zika virus on the Baja peninsula. This is just about the peak of the mosquito season in Baja, without rain, the breeding grounds for mosquitos disappears quickly in our desert environment. Campaigns to have residents clean up standing water near residences continues on radio and television.

The World Health Organization declared the Zika Virus a Global Health Emergency on February 1, 2016. The Zika Virus, when contracted by pregnant women or women trying to become pregnant appears to have a direct correlation to an increase in the birth defect microcephaly, or underdeveloped brains. By this declaration, it allows for the immediate release of special funding for research and containment. Since Late February 2016 a number of additional health problems have been linked to a Zika infection, including paralysis in adults. However, these problems are extremely rare, the major threat remains to pregnant women and their unborn child.

On April 10 the Center for Disease Control (CDC) announced that they believe the Zika virus poses a greater threat than originally thought and that contracting the virus during any phase of pregnancy can be harmful to the fetus. Direct links have been made to the virus and birth defects and it is believed that mutation in the virus from its origins in Africa have made it not only more virulent but is what has resulted in the connection to birth defects and temporary paralysis syndrome in a rare number of patients. Birth defects remain the main concern in the contraction of the virus while the general risk of other side effects remains relatively low.

State in Mexico
(10-17-16) Total Cases
Since 01-16 7-Day Increase
In All Mexico 4837 +531
Aguascalientes 1 +0
Campeche 53 +8
Coahuila 2 +0
Colima 169 +25
Chiapas 714 +105
Guerrero 763 +15
Hildalgo 104 +28
Jalisco 30 +4
Michoacán 54 +3
Morelos 119 +48
Nayarit 20 +2
Nuevo León 126 +29
Oaxxaca 483 +2
Puebla 38 +10
Quintana Roo 232 +36
San Luis Potosi 9 +1
Sinaloa 1 +0
Sonora 5 +0
Tabasco 206 +17
Tamaulipas 46 +29
Veracruz 1213 +103
Yucatán 449 +73
Total Pregnant Women 2417 +330
Baja California 00 00
Baja California Sur 00 00
As of October 17, 2016, and since the first of the year there has been a total of 4837(+531) tested cases of Zika in Mexico, with 2417(+330) cases in Mexico of pregnant mothers infected with Zika, a slightly greater rise in the number of pregnant women this week is in part a result of wider testing in Chiapis.

There have been no reported cases of the Zika virus recorded in either state of Baja California or Baja California Sur.

dean




Posts

: 5478


Join date

: 2008-01-01



http://www.bajainsider.com/article/zika-virus-mexico?utm_medium=email&utm_campaign=Baja+Insider+Update+-+April+29%2C+2016&utm_source=YMLP&utm_term=Zika+Virus+in+Mexico


dean




Posts

: 5478


Join date

: 2008-01-01




dean




Posts

: 5478


Join date

: 2008-01-01



Zika: A New Mosquito Borne Virus Arrives in Yucatan
http://yucalandia.com/2015/09/18/zika-a-new-mosquito-borne-virus-arrives-in-yucatan/
Zika virus is spread to people through Aedes aegypti mosquito bites. Zika virus disease (Zika) most common symptoms are fever, rash, joint pain, and red eye. Symptoms are usually mild, lasting from several days to a week. Severe symptoms requiring hospitalization are uncommon.
Does this sound like any fever-disease(s) you already know?

Unfortunately, Zika presents very much like Dengue and Chikungunya.

Right... You just learned how to say "Chik" -"coon" - "Goon" - "ya" ... and another Aedes aegypti borne virus pops-up.There is no vaccine to prevent nor medicine to treat Zika. Protect yourself from this disease by preventing Aedes Aegypti mosquito bites: Use insect repellent, wear long sleeves and pants, and stay in places with air conditioning or that use window and door screens ~ especially in the morning ~ as that is when Aedes Aegypti females are most actively feeding.

Treatment for Zika is the same as for Chikungunya and Dengue Viruses: No aspirin, no NSAIDs (Advil, ibuprofen, Advil etc), rest, stay hydrated, and watch for serious symptoms during Days 4 - 6 of the fever.

Since Zika, Chikungunya, and Dengue viruses have so many of the same symptoms, it's important to treat potential Zika infections just like the more dangerous Chikungunya & Dengue virus infections. Dengue infections can sometimes proceed to very serious bleeding into the gut (vomiting congealed blood like coffee grounds - or passing black stools) or bleeding from the eyes or profuse bleeding from the gums or nose ...

So WATCH FOR nasty symptoms during Days 4-6 of the disease ... and GO TO A HOSPITAL for treatment if you have these symptoms ... as the patient may have dangerously low levels of platelets due to EITHER Dengue or Chikungunya virus infections ... infections that present like the less harmful Zika.

Since Zika is caused by the same Aedes aegypti mosquitoes as Dengue and Chikungunya virus,   and because they have very similar symptoms,  please read about Dengue and Dengue prevention ... AND TAKE ACTION
... because Chikungunya can cause fatigue and joint pain that last months to years
... and Dengue sometimes proceeds to the dangerous symptoms of Dengue Hemorrhagic Fever (DHF)

Dengue Fact Sheet

and

Dengue Fever Information: What to Do?

*     *     *     *     *     *     *


We know of only one lab in Merida that can test for all 3 of these viruses  ~ Clinica de Merida ~ on Avenida Izaes ~ ...  Know that the treatments are the same, so knowing which virus you have does not change your actions nor your treatments  ...

~ Also know that we should wait until at least Day 4 of infection to Day 6 of infection BEFORE getting tested,   because our bodies do NOT make enough antibodies for the hospital lab serum (blood) tests to work.

Blood antibody tests made earlier than Day 4 likely  INCORRECTLY report that you have no Dengue/Chikungunya/Zika virus.
* * * *

Feel free to copy with proper attribution: YucaLandia/Surviving Yucatan.
Last edited by dean on Wed Oct 19, 2016 7:26 pm; edited 1 time in total

dean




Posts

: 5478


Join date

: 2008-01-01



Similar topics
---
Permissions in this forum:
You
cannot
reply to topics in this forum